Detergent.
The detergent plays a crucial role in the crystallization of membrane proteins. The detergents used to crystallize membrane proteins are generally simple nonionic or zwitterionic, and have a single polar head group and a single unbranched, saturated alkyl tail.
Detergent
MW
CMC (mM)
Alkyl-beta-D-glucoside

Heptyl-

Octyl-

Nonyl-

Decyl-

278

292

306

322

79

20-25

6.5

2+3

Alkyl-beta-D-thioglucoside

Heptyl-

Octyl-

274

308

30

9

Alkyl-beta-D-maltoside

Decyl-

Dodecyl-

483

511

1.6

0.16

Oligo-oxyethylene

C8E4

C8E5

C12E8

C12E9

306

350

518

583

7.0

4.3

0.08

0.1

Dimethylaminoxide

Decyl-

Dodecyl-

201

229

10.4

1.1

Zwittergent

3-10

3-12

308

335

25-40

3.0
Above a characteristic concentration, micelles of detergent molecules are formed (critical micellar concentration, CMC). At detergent concentrations below CMC most membrane proteins are not very soluble and could form 2D crystals. For some detergents the CMC depends on temperature, pH, ionic strength and the presence of additives or impurities. At high detergent and precipitant concentrations the micelles aggregate. The solution separates in a micelle rich and a micelle poor phase. Often 3D crystals are found, close to the condition where phase separation occurs.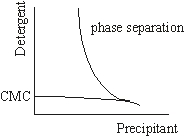 Detergent phase diagram.
Detergent to Protein Ratio

The detergent to protein ratio, may be a critical parameter for succesfull crystallization of membrane proteins. Many proteins appear to have well defined detergent-to-protein ratios for optimal solubilization. For detergents with high CMC (>1%), the protein solubilization occurs at or near the CMC for most detergents. But for detergents with low CMC, enough detergent has to be added, to saturate the binding capacity of the protein, and to induce the micelles formation.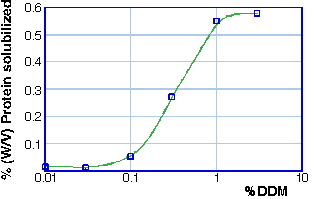 Solubilization of Spinach LHC II as a function of the concentration of detergent DDM.
As the detergent concentration is increased, the lipid in contact with the protein is exchanged for detergent and transferred into mixed micelles of lipid and detergent. Disruption of essential protein-lipid or protein protein interaction by the detergent might lead to inactivation or denaturation.

Solubilization of Protein as a function of the ratio of detergent to protein.
---
© 20-08-2018
Johan Zeelen